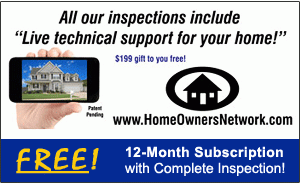 With every full inspection by Inspections Unlimited Inc., you'll receive a FREE 12-month subscription to The Home Owners Network!
This valuable bonus is "… like AAA® for your home!"
What it's About:
Membership provides home owners 24/7 access to experts and services with vital support and information that saves time and money as well as maintaining 'round-the-clock' safety monitoring for your family.
Benefits of membership include:
24/7 Answers to Home Owner Questions – Use the HON's Patent Pending "Ask the Experts" smart phone app to get fast expert answers to home-related questions in a matter of minutes.
Expert Assistance – A quick, simple and intuitive process for provides a reliable way to find the right local, quality contractor for the job.
Safety Monitoring – 'Round the clock appliance recall monitoring means you'll be not only informed about a recall, but will be given information as to how to resolve it, (in some casing meaning free replacement).
Exclusive Offers from Trusted Brands – member discounts on everything from moving services, utility providers, appliances, home improvements and more.
Emergency Assistance – if an emergency occurs, you'll have the help you need to keep your home and family safe.
---
Call Inspections Unlimited Inc. at (215) 793-0900
to schedule your complete home or commercial property inspection,
and ask about your FREE 12-month subscription to The Home Owners Network!